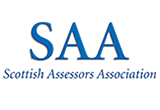 Scottish Assessors
The SAA Portal provides all Scotland Valuation Rolls & Council Tax Lists on-line. The following pages provide information for individual or small groups of properties.

Notice Board
Search Valuation Roll by Description
All fourteen Assessors across Scotland have linked their detailed property descriptions to one of approximately 200 core descriptions. Core descriptions provide a standardised and consistent way of searching for similar properties across Scotland. To search by core description, simply click the input box that is available as part of the existing advanced search facility for rateable values. A dropdown menu will appear listing all the core descriptions. Alternatively, you can simply type in the core description you are looking for and predictive text functionality will help you narrow down your search.
Rating Revaluation
The Scottish Government has announced that the non-domestic rates Revaluation scheduled for 2015 has been postponed until 2017.
Make sure of your vote
Revised Registers of Electors were published on 1 December and are now available for inspection at Electoral Registration offices. They may also be inspected at some council offices and local libraries - contact you local Electoral Registration Officer for details. If you are entitled to be registered, you should check that your name has been included. The register is updated on a monthly basis and you can apply to have your name added by completing and returning a voter registration form to the Electoral Registration Officer.


For information about your area, select a region from the map or identify your Assessor from the local council area list below. Click to be taken to the home page for that region
Scottish Assessors